Rawlplug has once again shown its cutting edge and relied on innovation and unique solutions.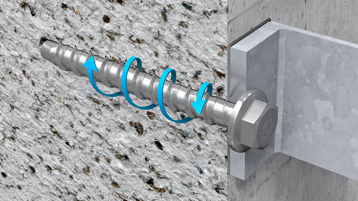 R-LX concrete screw, which is our latest version, has two separate threads with different pitch heights. The primary thread is responsible for the material cutting, which helps to distribute the forces that affect it and determines the load capacity of the screw. The secondary lower thread enables stabilization of the screw during installation, at the same time as it increases its resistance to the pull-out loads.
Features and Benefits:
INNOVATIVE SOLUTION
Patented design: optimized double screw diameter and unique threading ensure the unique properties and functionality of the R-LX screw
RELIABLE AND DURABLE
Perfect combination of undercut design and unique high-low thread that ensures unsurpassed strength parameters compared to other anchors in the same class.
LARGE APPLICATION
Thanks to the many screw heads available and the adjustable anchorage depth, the product is suitable for an impressive area of ​​use. It turns out to be a perfect answer to the need for mass anchoring.
COMPLETE CERTIFICATE
R-LX CONCRETE SCREW meets all relevant requirements of European Assessment Documents EAD 330232-00-0601 (Part 3) and EAD 330022-00-0601 as well as European Technical Approvals (Part VI).
UNIQUE MANUFACTURING PROCESS
To meet the contractors' needs, a team of experts from Rawlplug has developed an innovative forging and heat treatment process that ensures a high steel class for the finished product and enables its reusable use during installation.
CORROSION RESISTANT The
product's anticorrosive properties have been confirmed in a salt spray chamber test with the extraordinary result of 1,500 hours. It is available as galvanized or in zinc-flake surface treatment.