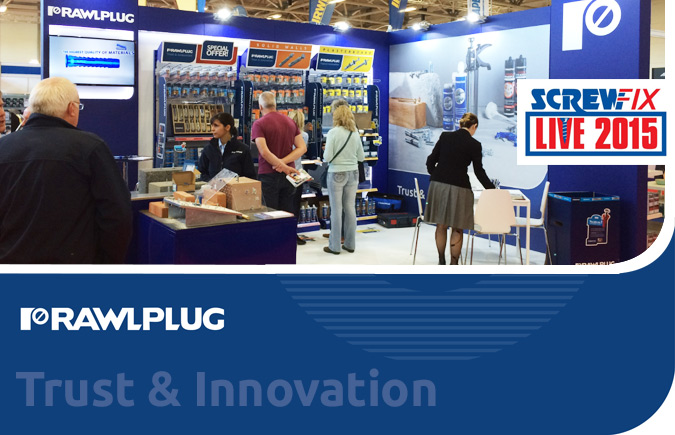 For the third year in a row, RAWLPLUG exhibited at Screwfix LIVE 2015, the UK's Best TRADE & DIY Show.
Screwfix LIVE opened its doors to the trade and DIY enthusiasts from 25 – 27 September in FIVE exhibition centre at Farnborough, Hampshire. The show was a great success this year, with a reported quantity of over 9,000 visitors who generated a tremendous amount of sales.
The RAWLPLUG team attended the show along at least other 120 trade suppliers. Occupying stand B19 in the main hall, RAWLPLUG was showcasing the latest products and innovations. The new POS offer with fully stocked merchandisers was displayed on the stand to exhibit the eye-catching look of the new packaging.
RAWLPLUG featured show deals with special prices on its Screwfix range, and leaflets and giveaways were handed out to visitors to promote the brand. Product demonstrations were in place to showcase the bonded resin anchors in concrete and hollow brick substrates and latest fixings for plasterboard, which generated great attention from the public.