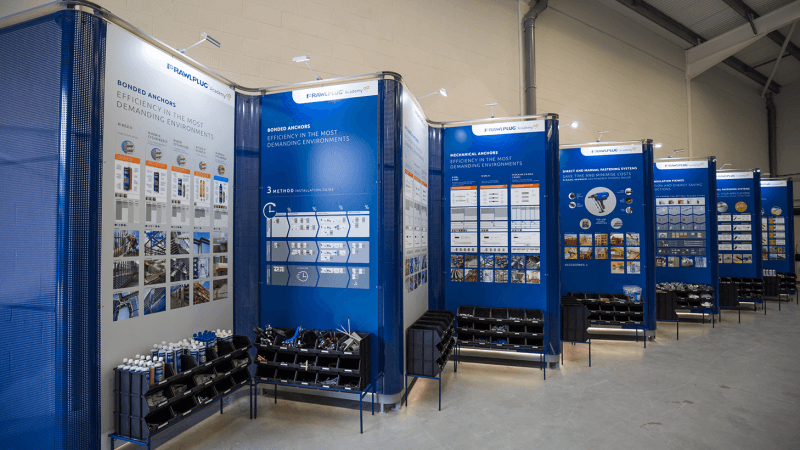 Become a Rawlplug Expert
It's time for another Rawlplug® centenary event. On one of the last days of May, there was an important day for the entire construction industry – the grand opening of the Rawlplug Academy® Training Centre in London!
On behalf of Pietro Grandesso, Managing Director at Rawlplug Ltd, the company's entire personnel and Radosław Koelner, CEO of Rawlplug, Invited you to experience all the possibilities and benefits that we have prepared for you at the Centre. We have created the Rawlplug Academy® Training Centre for construction industry people from all over the world. We invite you to take full advantage of all of the services, products and training that it holds within it.
Face to Face With the Market
Rawlplug® has been an expert in fixings, fasteners and tools for 100 years. It is so for many reasons, including our knowledge and understanding of the specificity and complexity of the construction industry, the challenges facing our customers, and consequently also the hard time they have trying to find their place in this reality. Being one of the inherent components of the Rawlplug Academy® development programme, the Rawlplug Academy® Training Centre offers specific answers to the questions of this reality. We have created this place to share knowledge and best practices, solve problems experienced by our customers and advise them effectively. It is there to broaden horizons and explore new possibilities, to provide efficient training and the necessary theory as well as opportunities to put them into practice, and to make sure that each of your customers will walk out of London's Training Centre thinking: "I've just become an expert."

It's Here
The location: 410 Wharfedale Road, Winnersh, Berkshire, RG41 5RA. This is precisely where you can find our Training Centre. The location is excellent, offering convenient transport connection with the centre of the United Kingdom's capital as well as London's airports. And the Centre itself is beautifully and functionally arranged, providing all you need to learn efficiently, expand knowledge and develop competencies.

For Everyone Who Wants to Be An Expert
The Rawlplug Academy® programme, including the training provided at the Training Centre, has been prepared by considering the needs of all construction industry professionals, from engineers to architects and constructors, and from contractors to salespeople. No matter what kind of customers they work with and what challenges they tackle on a daily basis, what they need at work is not only the knowledge of the range of available fixings, fasteners and tools, and the capacity to choose them correctly for individual jobs, but they must also be familiar with the principles of their use, their intended applications as well as advanced characteristics of specific products. This is what we've heard from one of our customers, John Amherst, a sales representative of a construction wholesale outlet: I meet with people who are experts in their respective fields, and if I want to offer them top‑quality service, I need to have comprehensive knowledge, so that they can feel that they are dealing with a genuine business partner. Precisely because I am a professional, I have no problem admitting that there are some fields I don't know everything about and in which I still need to develop. And that's exactly what the Rawlplug® Training Centre is about: we want to help others become experts.
Theory and Practice Combined = Efficiency
Every training held at the Rawlplug Academy® Training Centre is based on a script which reflects construction professionals' real-life decisions, behaviours and day-to-day actions. Each training comprises the classroom part and the hands-on part, delivered using innovative teaching tools that stimulate the participants' imagination and improve the efficiency of education. Each training is tutored by one Trainer – an expert in the respective field and may take from 2 to 4 hours depending on the substance and complexity of the subject.
The lecture part is actually a presentation concentrating on technical parameters, features and competitive advantages of product groups or individual products, and the knowledge is passed on by demonstrating specific benefits that you can obtain in everyday work in terms of quality, costs or time-saving.
Following the classroom part, the participants proceed to the hands-on training, enabling consolidation and verification of the knowledge already acquired. It is the training part focused on the correct selection of products depending on the applications they are intended for by taking cost optimisation, installation time, safety or future operating reliability into consideration The hands-on workshop also involves the actual use of selected products in practice.
We test the products using sample walls made of the most common base materials, prepared in a way to reflect real-life construction site conditions. It's a workshop that concentrates on real-life testing of products, ensuring the practical experience of correct fixing, but also enabling participants to make typical mistakes, so that they can avoid them in the future, and consolidate their knowledge of good practices.
For the sake of understanding and memorising, it's very important that the knowledge is transferred in a structured way, allowing the trainees to automatically apply in practice what they have just learnt in the classroom part. We share our know-how and experience with our visitors, training them to be experts. This is precisely why we practise using two or more different products intended for the same substrate in order to eventually choose, on a trial and error basis, the one that is most appropriate for the given situation for various reasons, such as time and mechanical strength.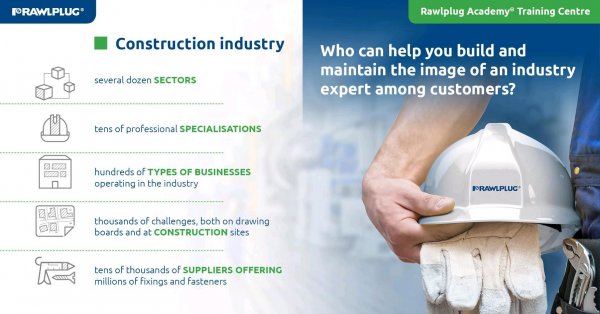 Unique Teaching Tools
We use unique and highly advanced teaching tools at the Centre, making it possible to quickly go through the available information, expand knowledge to get more detail, consolidate the theory one has just acquired as well as put it into practice. An example of such a tool is the Rawlplug Offer application, allowing you to review competitive advantages of all pillars of Rawlplug's offering: products, services and training. Here's another example: display charts dedicated to product categories, used between the classroom and the hands-on part of the training, where one side of the chart presents the product classification within the given group, describes the applications they are intended for and provides installation guidelines, while the other side illustrates the most important products in the category along with a description of their specificities and competitive advantages. Another unique feature available is the hands-on testing walls made of concrete, solid brick, aerated concrete, hollow brick, wood or steel. And why are they so special? It's because the walls are structurally prepared in such a way as to reflect the actual construction site conditions; for instance, training with mechanical anchors involves facade brackets used most frequently for the installation of such fixings.
Training+
Training is not yet everything we have prepared for our customers. There is also the heritage zone where you can learn about our history and the spectacular past accomplishments which went far beyond the standards of their times. Not only can you navigate through the Rawlplug Offer application, but you may also learn more about the brand's offering on 8 display units presenting key products of each category along with the matching accessories. To really appreciate the competitive advantages and learn about the benefits of having an efficient product display system at your point of sale, join the POS system presentation, and if needed, make use of the available conveniences to have a talk about business collaboration.
3 Ways to Sign Up
How can customers sign up for the training? They should choose between the 3 available options. The first option is to use a dedicated web page on the rawlplug.com website and rawlplug.co.uk sites. Secondly, they can sign up directly at the Centre. And thirdly, they can contact one of Rawlplug's Technical Advisors, Salespeople or Engineers.
Get Ready
"We invite customers from all over the world to visit our Training Centre. The UK, Poland, United Arab Emirates, South Africa, Ukraine, France – each market has its own laws and specificities, but the highest degree of specialisation, i.e. knowledge and expertise is of key importance everywhere if the right decisions are to be taken in relation to construction industry support and services. Rawlplug is the only brand in the world that provides products for each of the industry's sectors, and it has now been working for 100 years to earn its image of an expert in fixings, fasteners and tools. This heritage is worth making use of" – says Pietro Grandesso, Managing Director ar Rawlplug Ltd.